---
1. SERIAL NUMBERS
1.1 The serial number is visible on a label attached to the underside of the Sinclair QL thus: D13 59643. Prefix D13 relates to the build standard (B/S) and Issue Number, 59643, is the number of the production run.
2. PARTS LISTS / MODIFICATION HISTORY
2.1 Parts lists for the Sinclair QL are presented in tabular form. They cover p.c. board Issue 5 (build standard D6 to D13) and p.c. board Issue 6 (build standard 14 and beyond). The Issue 6 p.c. board introduces a number of relatively minor circuit changes from Issue 5. These are illustrated in Figures 5.1 and 5.2 and itemised in Tables 5.1 to 5.5 under separate columns labelled Issue 5 and Issue 6.
2.2 Items listed on Issue 5 relate to build standard D13, incorporating the latest version firmware (i.e. 32k and 16k JM masked ROMs in IC33, IC34 respectively). Earlier build standards (D6 to D10) saw the progressive introduction of improved firmware starting with a pickaback 16k EPROM replacing the external 'dongle'. A history of these early units is tabulated below.
| BUILD STANDARD | IC33 | IC34 | MASK |
| --- | --- | --- | --- |
| D6 | 2 x 16k EPROM | 16k EPROM | AH |
| D7 | 2 x 16k EPROM | 16k EPROM | JM |
| D8 | 32k ROM | 16k EPROM | AH |
| D9 | 32k ROM | 16k ROM | AH |
| D10 | 32k EPROM | 16k EPROM | JM |
| D11-D14 | 32k ROM | 16k ROM | JM |
2.3 Build standard D12 saw the introduction of modifications to the microdrive circuits foil owed by a new microdrive cartridge chassis at build standard D13. The JM version ROM firmware and microdrive improvements were carried out to Issue 6 (build standards D14, D15).
3. RETROSPECTIVE (MANDATORY) MODIFICATIONS
3.1 In order to improve performance and reliability the following components must be added/replaced on all pre-build standard 12 QLs returned for repair (see Section 4).
R104 (82 Ω) introduced in TR1 collector circuit.
R92 (formerly 220 Ω) increased to 390 Ω.
R105/R106 (1 kΩ) introduced across C19, D17.
D22/D23 (1N4148) introduced in series with R100/R101.
R102/R103 (33 kΩ) introduced between IC23 pins 21 and 19 and VM12 (-12 V rail).
firmware (IC33, IC34) to be upgraded to build standard D11.
4. NOTES TO TABLES
Early Issue 5 boards fitted with 43 kΩ resistors; do not replace unless it does not meet colour test criteria.
Retrospective (mandatory) modification required - see sub-section 3 (above) and Section 4 - Fault Diagnosis and Repair.
Fitted according to build standard and Issue.
BC183P is alternative type - NOTE: leads are reverse of BC184.
IC17 only fitted on Issue 5 EPROM versions.
IC38 replaces IC27 on Issue 6 versions.
TABLE 5.1 GENERAL ASSEMBLY
Description
Manufacturer/Type
QL Base Assembly
Microdrive Chassis (2 off) - Table 5.3
Final PCB Assembly - Table 5.5
Loudspeaker Assembly
60 Ω, 23 mm, TV
Heatsink Assembly - Table 5.2
Bottom Case Moulding
Bottom Case Fixings
1/4-in self-tap (2 off)
PCB Fixings
Fibre washer (2 off)
5/16-in self-tap (2 off)
MDV Fixings
1/2-in self-tap (2 off)
3/4-in self-tap (2 off)
QL Keyboard Assembly
Yellow LED (D27)
Red LED - 2 off (D20, D21)
QL Membrane
Keyboard Backplate
Keyboard and Bubble Mat
Keyboard Assembly Fixings
Adhesive Cable Clip
Double-sided Tape (0.5-in wide)
1/4-in self-tap - keyboard backplate
ROM Cartridge Bung
MDV Extension Bung
BUS Extension Bung
General Assembly Fixings
5/16-in self-tap (4 off)
Keyboard/Base
1 1/4-in self-tap (4 off)
TABLE 5.2 HEATSINK ASSEMBLY
Description
Manufacturer/Type
Heatsink
Wakefield Mk.2
+5V Regulator (IC35)
7805
3-pin connector
Molex, 4025
Heatsink Fixings
M3 x 10 mm pan hd screw
1-off
M3 plain washer
1-off
M3 crinkle washer
1-off
TABLE 5.3 MICRODRIVE CHASSIS
Description
Manufacturer/Type
Microdrive Cassette Chassis Assembly
Cassette Chassis
Motor Assembly
Microswitch Assembly
Drive Roller (parallel)
Plastic Roller
Cassette Chassis Fixings
M2.5 x 4 csk self-tap, motor fixings
2,28 x 3/5-in self-tap, microswitch fixing
Microdrive PCB Assembly - Table 5.4
PCB Fixings
No. 4 x 5/16-in self-tap (2 off)
Fibre Washers (2 off)
ULA Screen
TABLE 5.4 MICRODRIVE BOARD
Circuit Ref
ISSUE 5
ISSUE 6
Notes
Rating/% Tol
Manufacturer/Type
MDV1
MDV2
CAPACITORS (all axial types unless otherwise stated)
C5
C6
330 pF
As Issue 5
2.5%
HS30, Suflex
C9
C10
0.47 F
35V
ITT
C11
C12
0.22 F
35V
ITT
C13
C14
330 pF
2.5%
HS30, Suflex
C15
C16
220 pF
2.5%
HS30, Suflex
C17
C18
220 pF
2.5%
HS30, Suflex
C49
C50
47 nF
50V
C51
C52
47 nF
50V
DC28
DC29
100 F
50V, 10%+80%
RESISTORS
R34
R35
330R
As Issue 5
5%, 1/4W
R36
R37
330R
5%, 1/4W
R38
R39
4K7
5%, 1/4W
R40
R41
4K7
5%, 1/4W
R42
R43
4K7
5%, 1/4W
R44
R45
4K7
5%, 1/4W
R100
R101
2K2
5%, 1/4W
DIODES
D12
D13
1N4148
As Issue 5
D14
D15
1N4148
D22
D23
1N4148
(2)
INTEGRATED CIRCUITS
IC29
IC30
2G007-Issue 3
As Issue 5
ULA
Ferranti
IC31
IC32
78M05
+5V Regulator
MISCELLANEOUS
HBC1
HBC2
A10021
As Issue 5
2-off each
7-way flex. connector/cable
TABLE 5.5 FINAL BOARD ASSEMBLY
Circuit Ref
ISSUE 5
ISSUE 6
Notes
Rating/% Tol
Manufacturer/Type
CAPACITORS
C1
32 pF
As Issue 5
5%
Ceramic
C2
22 pF
5%
Ceramic/TB
C4
4.7 pF
25V, -10%+50%
Electrolytic/Axial
C19
47 nF
50V
C20
47 nF
50V
C21
22 µF
16V
Electrolytic/Radial
C22
22 pF
16V
Electrolytic/Radial
C23
22 pF
16V, -10%+50%
Electrolytic/Axial
C24
22 pF
16V, -10%+50%
Electrolytic/Axial
C25
22 µF
16V, -10%+50%
Electrolytic/Axial
C26
0.01 pF
20%
Ceramic/TB
C27
0.1 pF
50V, -20%+80%
C28
0.1 µF
50V, -20%+80%
C29
220 pF
10%
C30
220 pF
10%
C31
16 pF
22 pF
5%
Ceramic
C32
0.01 µF
As Issue 5
20%
Ceramic/TB
C33
0.1 µF
50V, -20%+80%
C34
47 pF
5%
Ceramic/TB
C35
100 µF
-10%, +80%
Electrolytic/Axial
C36
47 nF
50V
C37
470 pF
25V, -10%+50%
Electrolytic/Axial
C38
4.7 µF
16V
Electrolytic/Radial
C39
470 µF
25V
Electrolytic/Radial
C40
4.7 pF
16V
Electrolytic/Radial
C41
0.33 pF
50V
Electrolytic/Radial
C42
47 pF
10V
Electrolytic/Radial
C43
0.1 µF
50V, -20%+80%
C44
0.1 µF
50V, -20%+80%
C45
1 nF
2%
Ceramic
C46
0.1 µF
50V, -20%+80%
C47
22 µF
16V
Electrolytic/Radial
C48
0.01 µF
20%
Ceramic/TB
C53
NOT USED
22 pF
5%
Ceramic
DC1-29
0.1 pF
0.1 µF
50V, -20%+80%
RESISTORS
R1-R6
3K3
As Issue 5
5%, 1/4W
R7
330R
5%, 1/4W
R8
47K
5%, 1/4W
R9
3K3
5%, 1/4W
R10
680R
5%, 1/4W
R11
1K
5%, 1/4W
R12
3K9
5%, 1/4W
R13
10K
5%, 1/4W
R14
47R
5%, 1/4W
R15
330R
5%, 1/4W
R16
330R
5%, 1/4W
R17-24
10K
5%, 1/4W
R25
180R
5%, 1/4W
R26
3K3
5%, 1/4W
R27
3K3
5%, 1/4W
R28
1K
5%, 1/4W
R29
1K
5%, 1/4W
R32
820R
5%, 1/4W
R33
820R
5%, 1/4W
R46
1K
5%, 1/4W
R47
2K2
5%, 1/4W
R48
8K2
5%, 1/4W
R49
8K2
5%, 1/4W
R50
8K2
5%, 1/4W
R51
1K
5%, 1/4W
R52
1K
5%, 1/4W
R53
1K
5%, 1/4W
R54
47K
(1)
1%, 1/4W
R55
2K2
1%, 1/4W
R56
6K8
5%, 1/4W
R57
11K
5%, 1/4W
R58
55K6
5%, 1/4W
R59
22K
5%, 1/4W
R61
15R
5%, 1/4W
R62-69
3K3
5%, 1/4W
R70
1M
5%, 1/4W
R71
2K2
5%, 1/4W
R72-79
33R
5%, 1/4W
R80
15M
0.5W
R35
100R
5%, 1/4W
R86
270R
5%, 1/4W
R87
1K
5%, 1/4W
R88
75R
5%, 1/4W
R89
1K
5%, 1/4W
R90
1K
5%, 1/4W
R91
47K
5%, 1/4W
R92
390R
(2)
5%, 1/4W
R93
3K3
5%, 1/4W
R94
3K3
5%, 1/4W
R95
1K
5%, 1/4W
R96
2K2
5%, 1/4W
R97
1K
5%, 1/4W
R98
4K7
5%, 1/4W
R99
2K2
5%, 1/4W
R102
33K
ZERO Ω
(2)
5%, 1/4W
R103
33K
ZERO Ω
(2)
5%, 1/4W
R104
82R
82R
(2)
5%, 1/4W
R105
1K
1K
(2)
5%, 1/4W
R106
1K
1K
(2)
5%, 1/4W
JU1-6
ZERO Ω
-
(3)
DIODES
D1-D17
1N4148
As Issue 5
D20
LD235R
RED LED
SIFAM
D21
LD235R
RED LED
SIFAM
D25
BA157
D26
BA157
D27
LD235Y
YELLOW LED
SIFAM
D28
1N4148
D29
1N4148
TRANSISTORS
TR1
BC184
As Issue 5
(4)
TR2
ZTX510/BSX29-SGS
TR3
BC184
(4)
TR4
BC184
(4)
TR5
RC184
(4)
TR6
ZTX551
TR7
ZTX551
TR8
ZTX313/MPS2369
TR9
ZTX313/HPS2369
INTEGRATED CIRCUITS
IC1-16
HM4864P-2
As Issue 5
Alternatives
Hitachi
TMS4164-15NL
Texas
MCM6665AP15
Motorola
MK4564N15
Mostek
UPD4164C-3
NEC
MSM3764-15RS
OKI
TMS4146-12NL
Texas
HYB4164P2BD
SIE
IC17
74LS00
(5)
IC18
MC68008
Motorola
IC19, IC20
74LS257
NOT Nat. Semi
IC21
74LS245
NOT Nat. Semi
IC22
ZX8301
Plessey/Sinclair
IC23
ZX8302
NCR/Sinclair
IC24
8049
NEC
IC25
1488
IC26
1489A
IC27
74LS03
IC28
MC1377P
MC1377P
Motorola
IC33
23256
(2)
32k ROM, JM Mask
IC34
23128
23128
(2)
16k ROM, JM Mask
IC36
79L12
79L12
-12V Regulator
IC37
78L12
78L12
+12V Regulator
IC38
-
HAL16L8
(6)
Sinclair
CONNECTORS
J1
64-way
As Issue 5
Viking, Euro connector A/B
J2
30-way
Edge connector
J3, J4
603A LH
BICC, BT type
J5, J6
603A RH
BICC, BT type
J7
Jack
8-pin DIN
J8
3-pin Skt
Phillips, Mains
J9, J10
Jack
Single pol, NC
J11
TE9FS/18B
9-way flex
J12
TE11FS/18B
11-way flex
HBC1/2
4 off
Aries, 7-way flex. socket
LS
MWP2P-1B
Burndy
LEDS (D20, D21, D27)
MWP6P-1B
Burndy
MISCELLANEOUS COMPONENTS
TC1
540pF
As Issue 5
Trimmer
M1
UM1233
Astex, E36 Modulator
X1
HC18-U
15MHz, 20ppm
X2
MX38
32.768kHz, 20ppm
X3
HC18T-U
4.4336MHz, 20ppm
X4
-
11MHz, 10ppm
S3
RESET
P/B Switch
Schadow, DPCO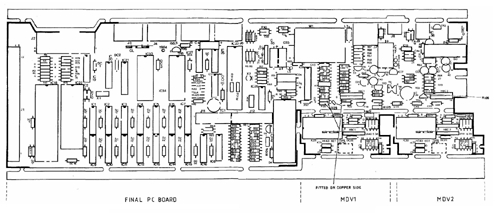 FIGURE 5.1 PRINTED CIRCUIT BOARD (Issue 5) COMPONENT LAYOUT


FIGURE 5.2 PRINTED CIRCUIT BOARD (Issue 6) COMPONENT LAYOUT
---